NORTH Instruments LLC is a specialized supplier and producer of professional test and measurement instruments which are used in various sectors of industry. Still, their main applications are in condition monitoring, diagnostics and protection of machines and plants. The company is also engaged in development, design and production of special measuring and test devices, which serve mainly as additional tools for on-line and off-line Condition Monitoring Systems (CMS) and other test and measurement devices.
Our products are a result of high technical expertise and years of field experience of our engineers in measuring, testing and diagnostics in various sectors of industry, and in particular those relating to monitoring and protection of machines. NORTH Instruments products are very rare or even unique on the market, produced in small series and mainly hand-made, without the excessive use of automated machines.
All our customers, who are already using a NORTH Instruments products, can ask for a specific modifications and/or customization of their devices (for example, for left-handed people). Also, we can develop devices according to customer's requests, intended for their own needs and/or branding and labeling.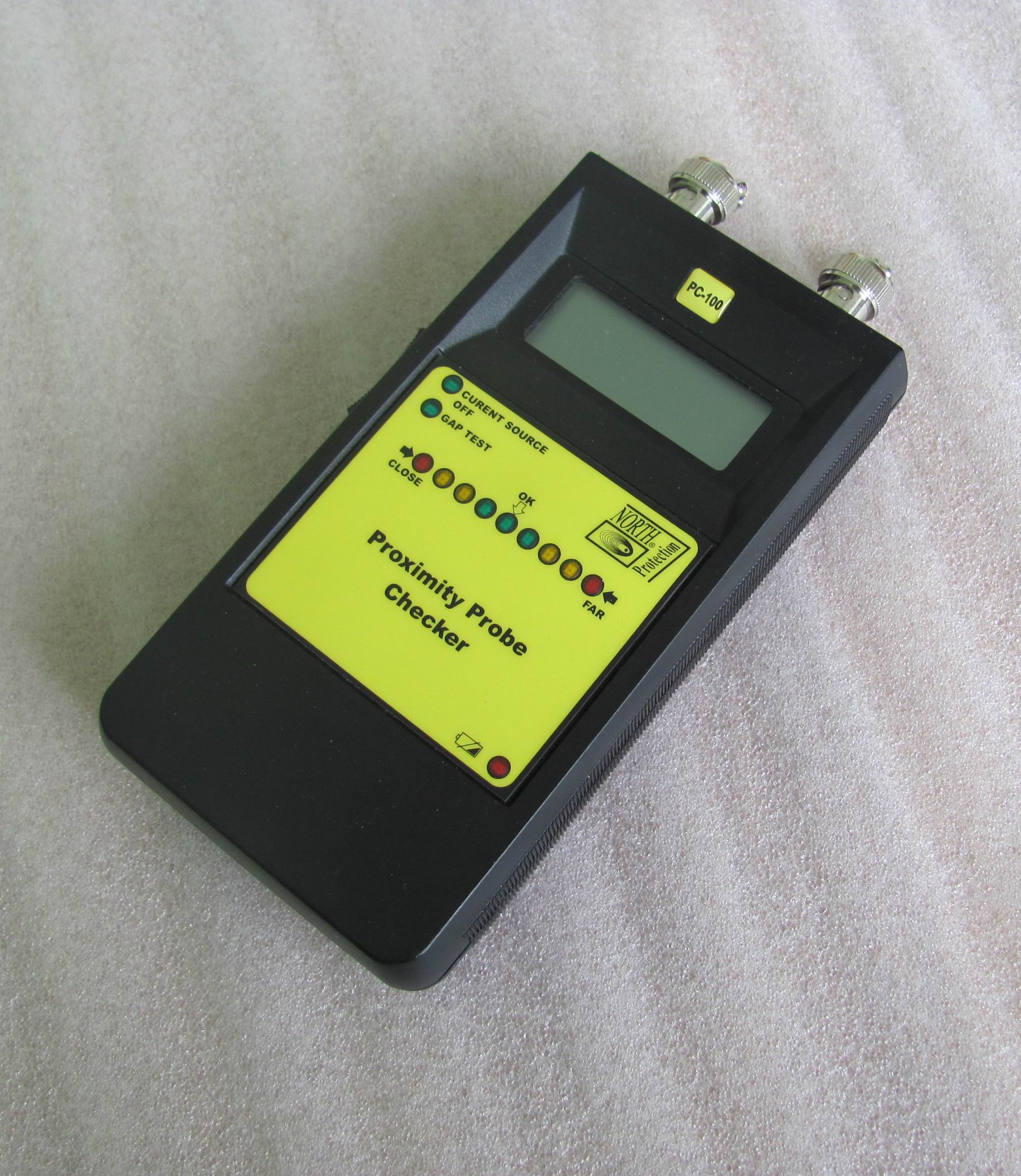 PC-100 Proximity Probe Checker
PC-100 Proximity Probe Checker is a battery operated, easy to use instrument which checks sensor GAP and then indicates it on the LED bar integrated on the front panel.
There is also a LCD screen for displaying GAP voltage for better accuracy.
PC-100 can also be used to simulate any current sensor with constant current output.
Power is supplied by one internally mounted 9V alkaline battery.
Working mode can be selected by a side switch mounted on the left side. There is also a visual identification of the selected mode placed on the front panel.
The measured voltage is displayed on LCD screen and on LED diodes, which indicates the position of proximity sensor.
It is especially designed for fast checking of proximity probes used in the monitoring system. It also helps the operator to set up proximity probe in optimal position and/or to get information about the probe position in front of the shaft.
In CURRENT SOURCE mode, the instrument produces fixed current of 12mA. It is designed to get external 24V on this input and it generates fixed current through integrated current loop.
MSC-1015 Multi Signal Calibrator
Description
MSC-1015 is a battery operated instrument that is used to electronically simulate variety of outputs from various types of sensors.
MSC-1015 uses a menu-driven 4×16 character LCD display to establish appropriate settings.
The key panel contains five sealed switches marked with arrows, E (Enter), Back and ON/OFF.
Power is supplied from 4 AA rechargeable, internally mounted Ni-MH batteries which can be recharged with a regulated 9Vdc source.
Connection to PC is established over the front mounted LEMO connector. PC mode will be automatically started after inserting proper cable into device.
Output signal is user selectable from: single-ended voltage (mV), single-ended charge (pC), differential charge (pC), current-sinking IEPE (ICP®), loop powered current source (mA), tachometer (TTL), flow (TTL), OSO® (Optical Speed Output) and BOV (Bias Output Voltage). Frequency range is 1Hz to 10kHz; RMS output voltage is from 10mV to 10V or 10pC to 10.000pC. Outputs can be provided in acceleration, velocity, displacement, voltage or charge.
Application note
Suitable for inspecting measurement lines according to ISO 10816 standards. Device is especially designed for Condition Monitoring Systems (CMS) and/or Vibration Monitoring Systems (VMS) that are independent or connect to SCADA Systems.